I published this investment idea on
Valuabl on October 14th
. I have removed the paywall and made it freely available to everyone.
•••
Limited growth opportunities bedevil the world's foremost online auctioneer. But a difficult-to-copy business model will protect profitability while the firm repurchases stock. A bid on this bidder offers a 39% upside and a 14% IRR.
Rundown
Date: October 14th 2022
Company name: eBay Inc.
Ticker: $EBAY
52-week range: $36-81
Market cap: $20bn
Price: $38
Target: $50–55
Upside: +39%
Recommendation: Buy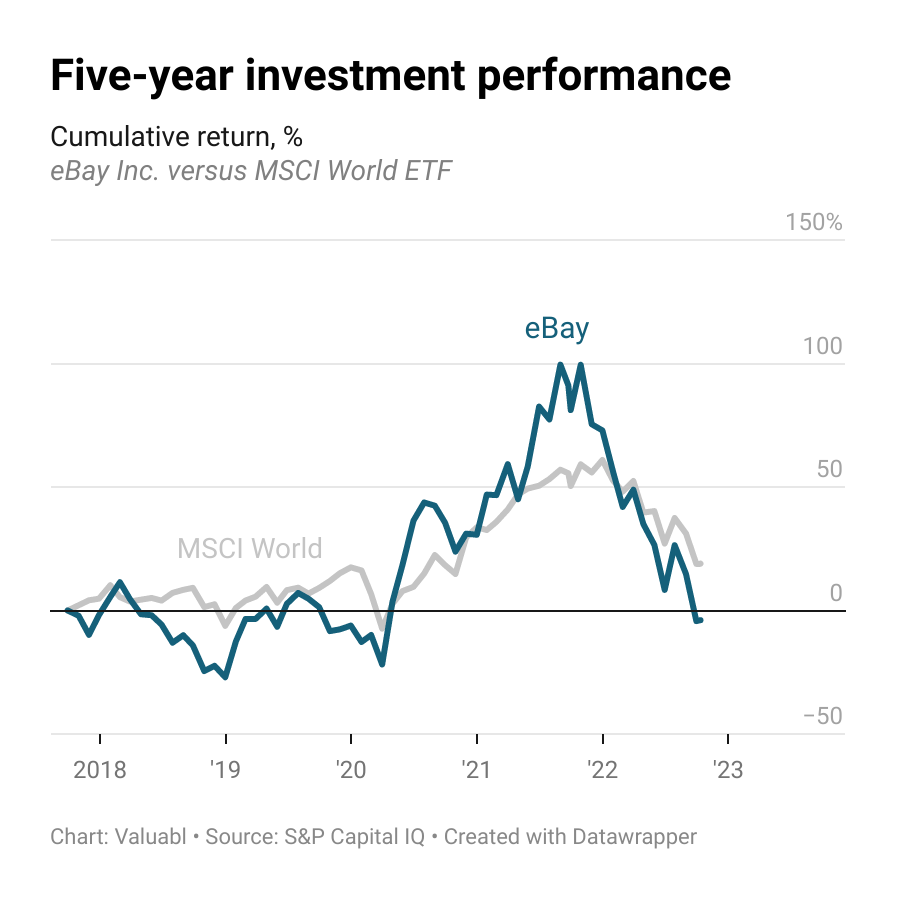 I) Story
Business model
eBay runs an online marketplace connecting buyers and sellers. The marketplace is free for buyers, but the company charges sellers a fee to list an item and a commission, usually 10%, on the sale price. The company gets almost half its revenue from America, while its next biggest markets are Britain and Germany.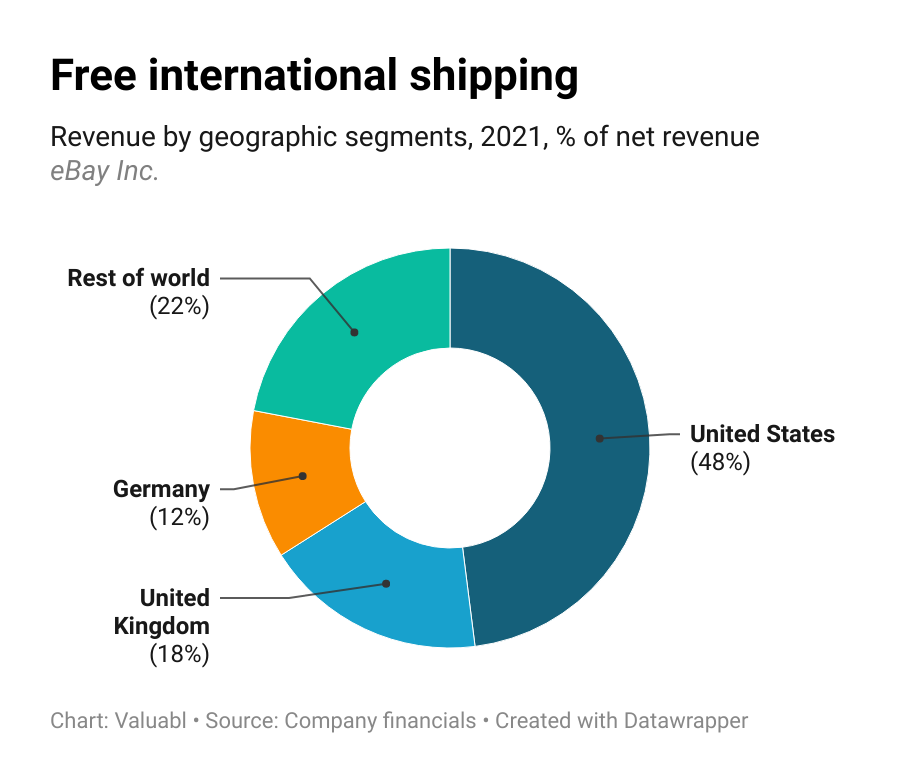 Competitive advantages
Innovative and difficult-to-copy business model: With the world's largest active group of consumer-to-consumer (C2C) shoppers and billions of listings, eBay is the most attractive place to start an online shop or sell unwanted goods.
Scaleable process: Without requiring inventory, the company can quickly service a growing number of customers without needing to increase working capital. Its business model means it gets paid before it has to pay.
Distinctive brand: People immediately know what eBay is and think of it first. Like Google is a metaphor for internet search, eBay is synonymous with an online marketplace. The company doesn't need to spend as much on advertising to defend its position at the top and can still charge high fees.
Opportunities
Authentication: Fake products are an industry-wide problem hurting the trustworthiness of online marketplaces. eBay's new post-purchase authentication option will help sellers assure buyers and discount less. The company's gross merchandise value (GMV) and net revenues will increase thanks to higher prices, conversion rates, and direct sales from the service.
ESG: Thrown-away consumer goods usually end up in a landfill. Folks are becoming more aware of their consumer footprint and increasingly look for pre-used products. By targeting young eco-advocates, eBay will help expand the second-hand economy and increase revenue.
Advertising: Statista, a market researcher, reckons the digital classified advertising market will grow at 4% per year. This rate is higher than the company's growth rate. Expanding this part of the business will improve conversion rates and monetisation of existing shoppers, driving higher revenues.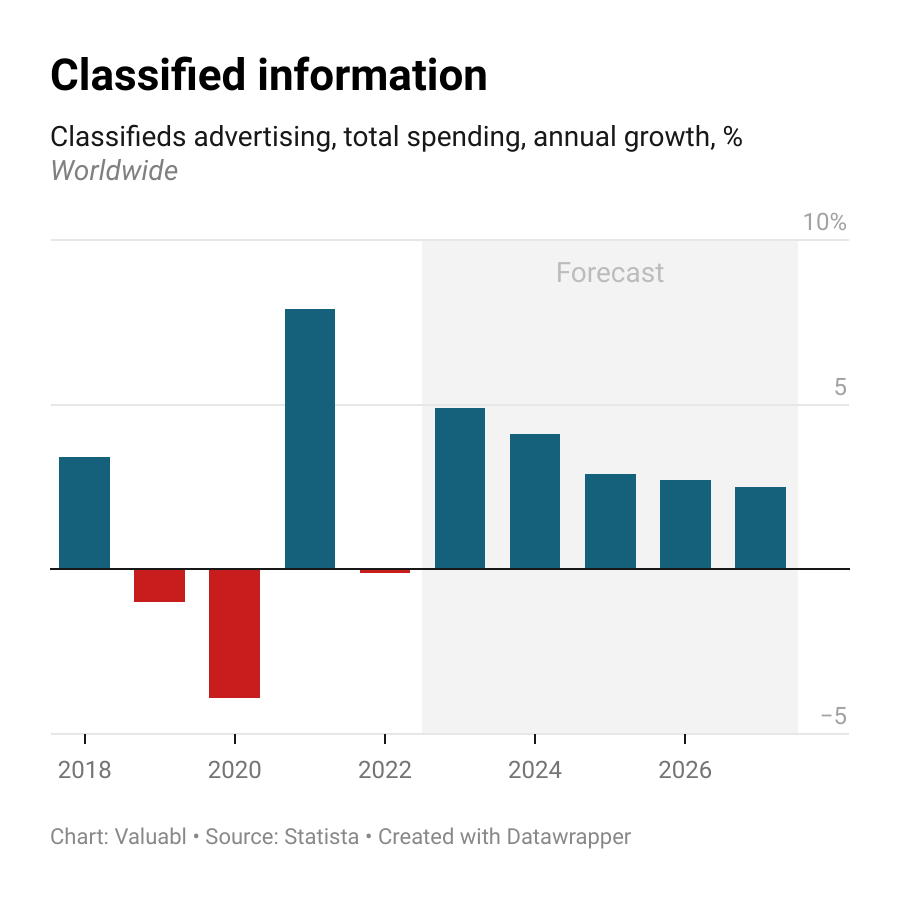 Catalysts
Earnings release on October 26th: Analysts expect third-quarter revenues to fall 4% and for operating profit to drop 7%. If higher living costs pressured households to sell unused possessions, as pawn shops have told American news outlets they have, sales and earnings could outperform.
Buybacks: eBay has $3.2bn in cash, and I forecast it to produce almost $2bn of free cash flows per year going forward. The firm is currently buying back $1.5bn of common stock per quarter ($6bn per year) with the share price below intrinsic value. At this rate, the firm can repurchase almost a fifth of common stock within the following year.
Key risks
Local disintermediation: Buyers and sellers, especially eco-conscious ones, increasingly turn to local networks like Nextdoor and Gumtree to hock their wares. If this continues, it will hurt eBay's competitiveness and undermine the network effects supporting their pricing.
Fraud: Fake products are a rock in e-commerce's boot. Even big, data-equipped online retailers like Amazon struggle to weed them out. If fake products continue flooding marketplaces, this will turn sellers off.
Fixed costs: Large fixed costs support margins as the business expands but hurt it as it contracts. If a recession stops people from shopping and cuts the total value of all goods sold through the marketplace, net revenues and margins will drop.
II) Numbers
Industry and key drivers
Commerce has evolved from high-street retailing to an online shopping ecosystem across many devices. Consumers expect greater convenience at every stage of the shop. Companies providing better product customisation, mobile-optimised online shopping, fast checkouts and speedy delivery are winning.
As more folks go from shopping in-person to online, e-commerce has and will continue to grow. Compared to the business-to-consumer (B2C) sales market dominated by a few giants like Amazon, C2C sales are a small, stable part of the online retail industry.
The e-commerce market is maturing across the rich world. Competition is intense and cost-intensive, and cart abandonment, leaving the website before completing the sale, is increasing. Customers are less loyal and more demanding than ever. Online retailers are trying to drive engagement by building communities, loyalty programs, and upping convenience.
Competition may be fierce, but the pool of shoppers to peddle wares to is vast and expanding. The percentage of consumers who shopped online at least once per year hit 74% in America in 2021. Similarly, 81% of Brits and 69% of Chinese shoppers bought something online—a lucrative trend for the companies that get the shopping experience right.
Worldwide e-commerce sales hit $3.8trn last year and have grown 14% yearly since 2017. Statista, a market forecaster, reckons the market will grow at 11% per year and be worth $5.9trn by 2025.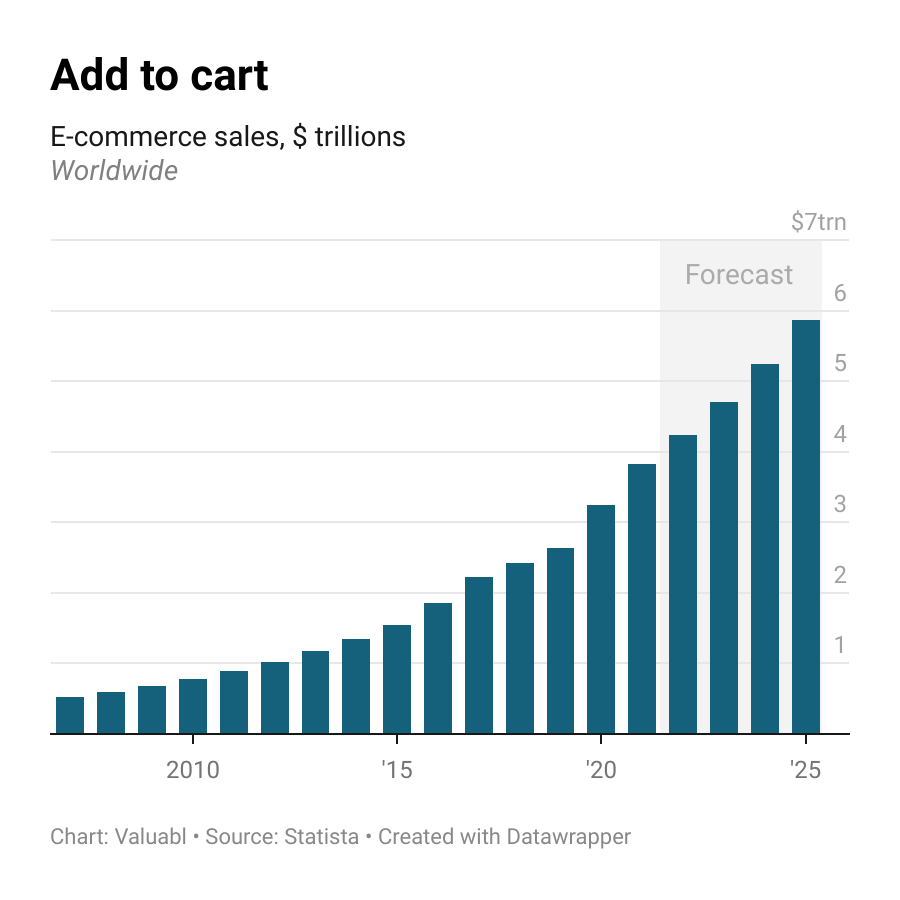 Revenues and growth
Despite being an e-commerce pioneer, most of eBay's growth is behind it. Even though the company's top line has grown at a 6% annual rate since 2019, it is barely above where it was 14 years ago in 2008. The company's growth is, for all intents and purposes, non-existent.
This failure to grow comes despite eBay having been a ravenous acquirer, buying other companies to try and boost the top line. This strategy worked through the 2000s but hasn't since. Since going public in 1998, eBay has bought 68 companies, including seven in the past five years. But they've also sold 14 companies, including PayPal, a successful payments business, in 2015.
The firm has struggled to attract customers and new sales since before the pandemic. While the value of all sales processed by eBay increased from $60bn to $83bn in the ten years leading up to 2021, it peaked at $90bn in 2017. Moreover, the number of monthly active buyers followed a similar trend. In 2011 there were 100m in the eBay marketplace. The company added almost 8m of these shoppers per year, and by 2018 there were 179m. But since then, the number has dwindled to the 147m registered last year. Still, this is the world's largest gathering of C2C shoppers.
The saving grace of this decline has been the company's take rate, the proportion of the sale price the company charges as a commission. This fee has averaged 10.5% since 2013 and has been relatively stable despite more aggressive competition from Facebook Marketplace, Amazon, Gumtree, Google and Nextdoor.
eBay is struggling to expand and is growing much more slowly than the industry and its peers. In the three years to June 30th 2022, net sales rose at an annual rate of less than 3%—far below the industry's 14% growth rate and putting eBay's growth rate in the bottom third of all public internet retail businesses.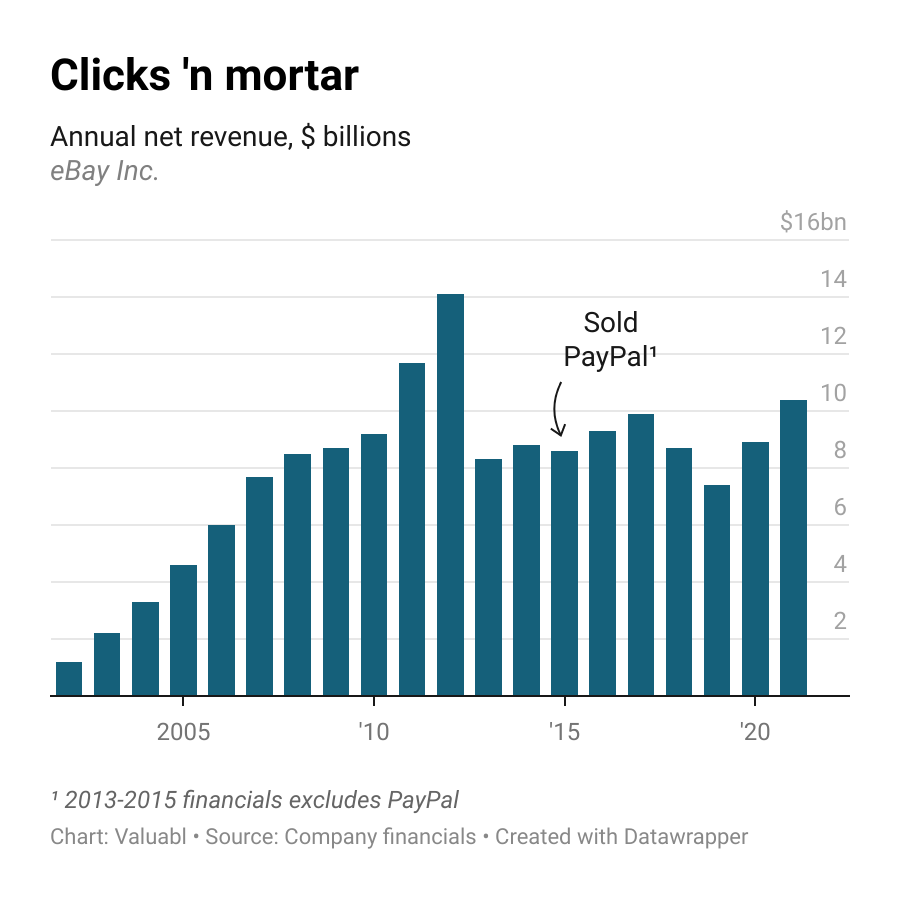 Margins and competition
I treated some of the company's spending on intangibles as investments to help paint a clearer picture of profitability and invested capital. I capitalised all the money spent on research and development (R&D) assuming a five-year amortisation; 70% of the money spent on sales and marketing (S&M) with a two-year amortisation, and 20% of what they paid for general and administrative (G&A) activity with a two-year amortisation.
Despite the lack of growth, profit margins are high and stable. For the past 20 years, they've wiggled between 20% and 30% of net revenues and now sit at their long-term average of 26.5%.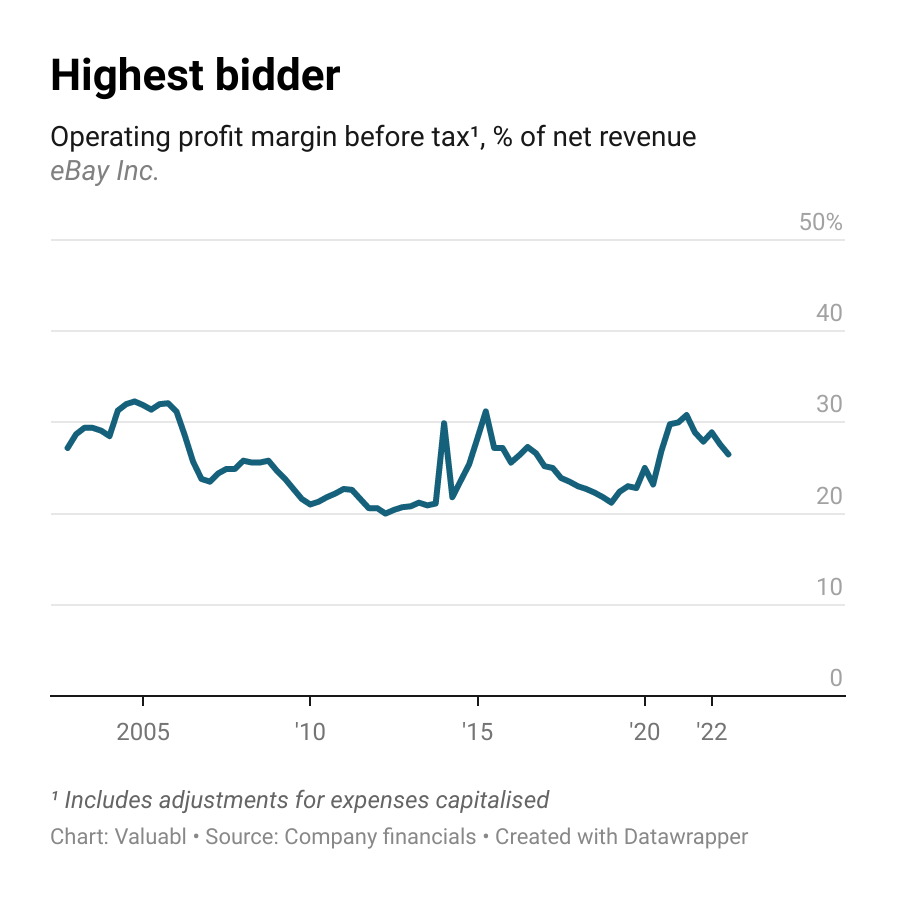 Since 2002, lower sales and marketing expenses have balanced out the rising cost of sales. The company spent just 17% of its net revenue on providing its services back then. This rate is now 27%, driven by a consistent decline in the company's commission rate. The additional cost per new order is negligible to eBay, but as take rates decrease, so do the company's gross profit margins. Counterbalancing this is a decline in the amount the company needed to spend on S&M. Two decades ago, the company spent 31% of its revenue on S&M. This rate has dropped ten percentage points since then and is now just 21%. eBay's value to potential new buyers and sellers and the brand name's clarity have helped attract and retain consumers despite the drop in spending.
The brilliance of the marketplace model, as opposed to the retail one, means the company's operating profit margins are in the top 2% of its online peers. Moreover, these margins haven't declined despite new entrants like Etsy, Facebook Marketplace and Amazon Marketplace vying to lure aware buyers and sellers.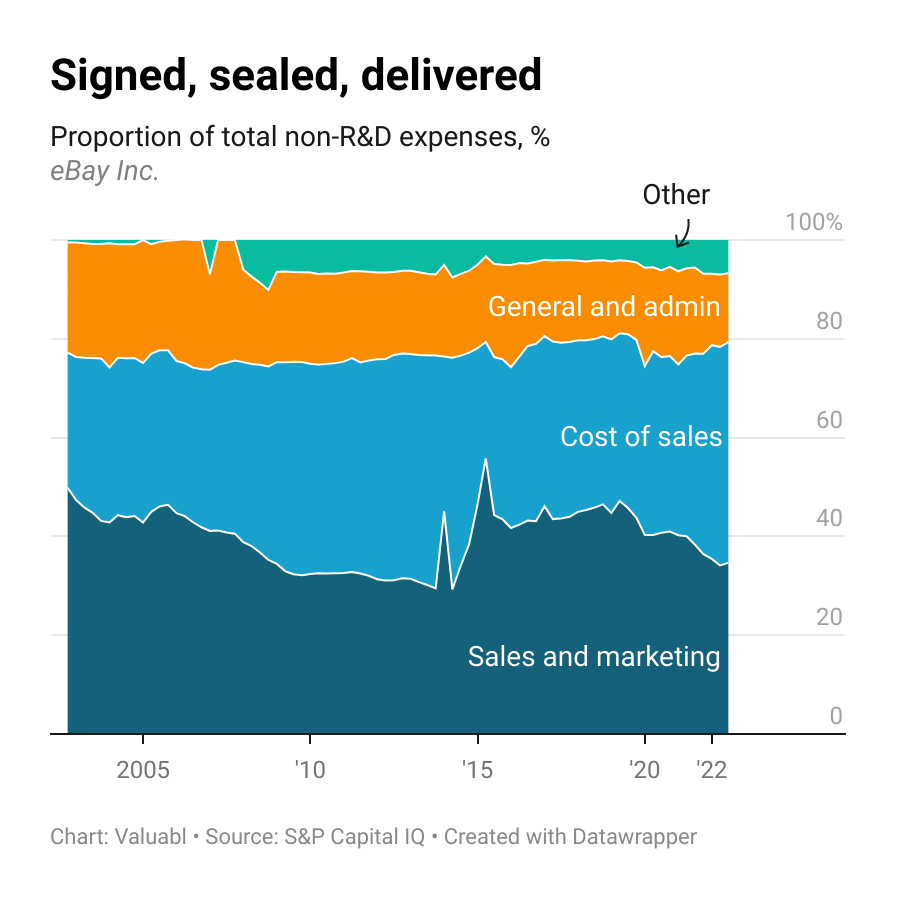 Capital intensity
Even though eBay is a marketplace and doesn't need inventory, the business requires a lot of invested capital to run and maintain. This capital intensity is at odds with traditional thought, as marketplaces are supposed to be capital-light. But as I have treated some intangible expenses as capital investments, this has added $6.5bn to the invested capital number, more than doubling it.
Currently, eBay requires a dollar of capital invested in operations for every $1-1.50 of net revenue produced. This ratio is in line with the long-term $1.30 average and puts eBay in the second quartile of its peers.
Capital intensity fluctuated slightly more than margins, thanks to constant acquisitions and divestitures. The 2014-'17 period is not indicative of the company's current business model because it acquired other units and spun out PayPal. The periods before and after this are more so.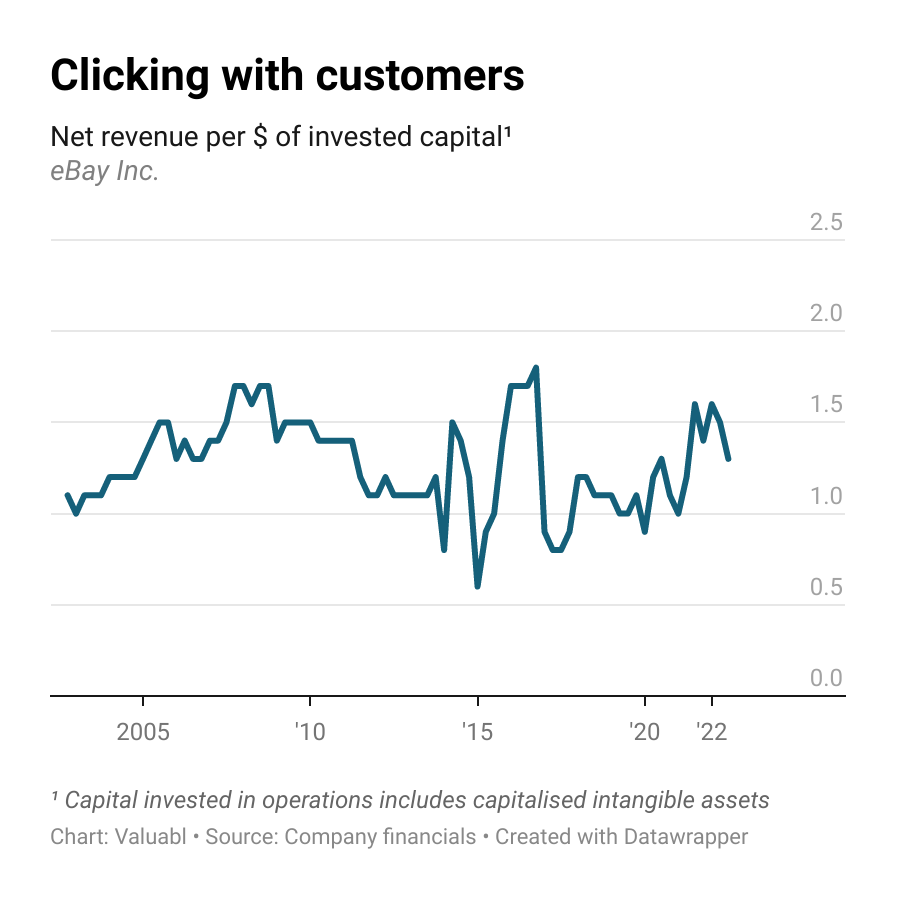 ROIC decomposition and competitive analysis
eBay has three distinct competitive advantages enabling it to produce consistently high returns on invested capital.
First, the company has an innovative and difficult-to-copy business model. It runs the world's biggest online marketplace. Having been around since the early years of the internet, the company has the biggest C2C platform, and the model has barely changed in 25 years. Even though the C2C part of e-commerce overlaps with traditional online B2C retail, consumers often turn first to online marketplaces. Over a fifth of all online purchases worldwide were through a marketplace last year. In contrast, individual retail websites were just 12%.
With an enormous stock of buyers, eBay has become the most attractive option for sellers looking to offload goods. In turn, such a massive array of listings (1.6bn, according to the website) makes eBay the most attractive place to start searching, with a third of American mobile users accessing the app monthly.
Second, the company has a scalable process. Without carrying inventory, the firm can add customers and capacity at negligible additional cost. The company doesn't need working capital as it is only online and only offers a brokerage model. In fact, the firm usually operates with negative working capital, getting paid by customers before they pay suppliers. That makes costs easier to manage and helps protect free cash flow. But this model does require significant investments in computer equipment, software, research and development, and marketing. As a result, eBay produces less revenue per dollar of capital invested in these fixed and intangible assets than their peers, who don't need to host and maintain a marketplace.
Third, the company has a distinctive and reputable brand. Customers are willing to pay to sell on eBay even though other free and lower-cost services are available. This appeal helps the company reduce sales and marketing costs, but more importantly, it has helped them maintain their take-rate.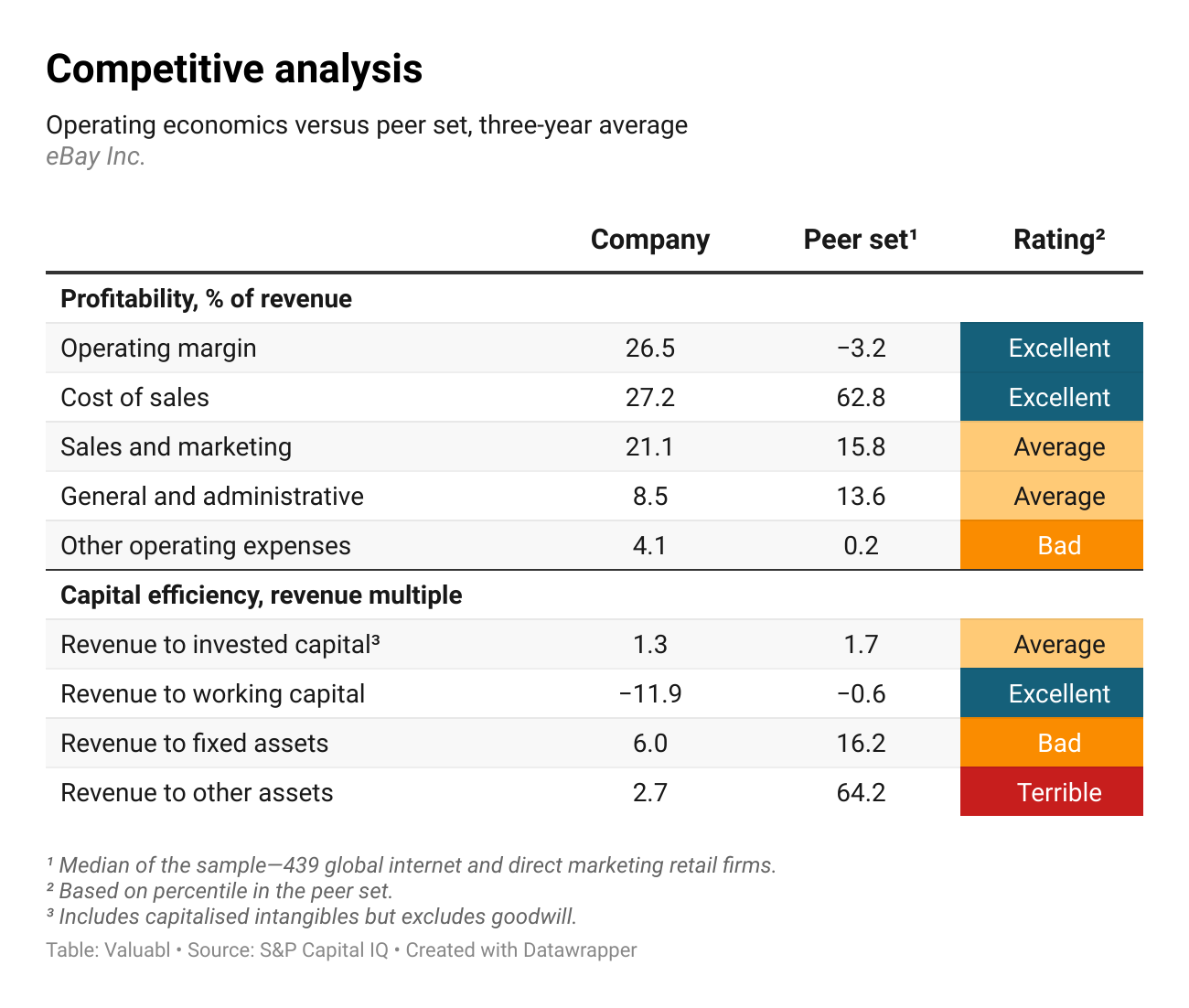 III) Valuation and sensitivity analysis
> eBay has cemented its place in consumer-to-consumer retail. It will keep losing market share in the online retail wars, but its distinctive brand and difficult-to-copy marketplace will help it remain relevant. Costs will rise slightly, and the commission rate will remain stable, pushing margins down toward their long-term average. Growth will be slow, and the bosses will continue looking for other companies to buy.
Growth: Analysts at Statista forecast the global e-commerce market to grow at 12% per year and to be worth $5.9trn by 2025. eBay will lose market share due to the size limits of the C2C niche. But the firm's distinctive brand and unstealable network effects will ensure its dominance of this space. I forecast the top line to grow at a sluggish 1.5% per year before picking up and heading toward underlying economic growth.
Margins: The firm's iconic brand and difficult-to-copy marketplace will help it maintain its commission rate at 10%. Inflation will cause costs to rise, but sellers raising prices will offset this for eBay. I forecast margins to remain in the top 5% of the firm's global peer set and remain in line with their long-term average of 26.5%.
Reinvestment and taxes: eBay's bosses will keep looking for smaller, complementary companies to buy. I expect they will continue getting 80c of net revenue for every dollar of capital they invest here, including goodwill. I forecast the firm's tax rate to trend from the current effective rate toward the underlying marginal rate based on the countries in which it operates. The company has $304m of state and federal net operating losses it can write off against future taxes.
Cost of capital: The firm is a global internet retailer getting 48% of its revenue from America, 18% from Britain, 12% from Germany and 22% from the rest of the world. The business model has a lot of operating leverage (1.7x), and executives have financed the firm appropriately (37% debt to market cap). Moody's, a credit rater, assigns them a Baa1 rating, and I estimate a 2.3% chance of collapse based on historical averages. I estimate eBay's weighted-average cost of capital is 8.3% in dollars.
Add nonoperating assets: According to accountants, the company sits on cash and short-term investments worth $3.2bn and long-term investments in other companies worth $5.2bn.
Deduct debts and other claims: eBay owes $592m to landlords and $7.7bn to creditors.
Intrinsic value: $50–55
Upside: 39%
Implied IRR: 14%
Sensitivity analysis and rating
Monte Carlo Simulation is used to model uncertainty by assuming that the inputs to the valuation model will come from probability distributions around the estimates.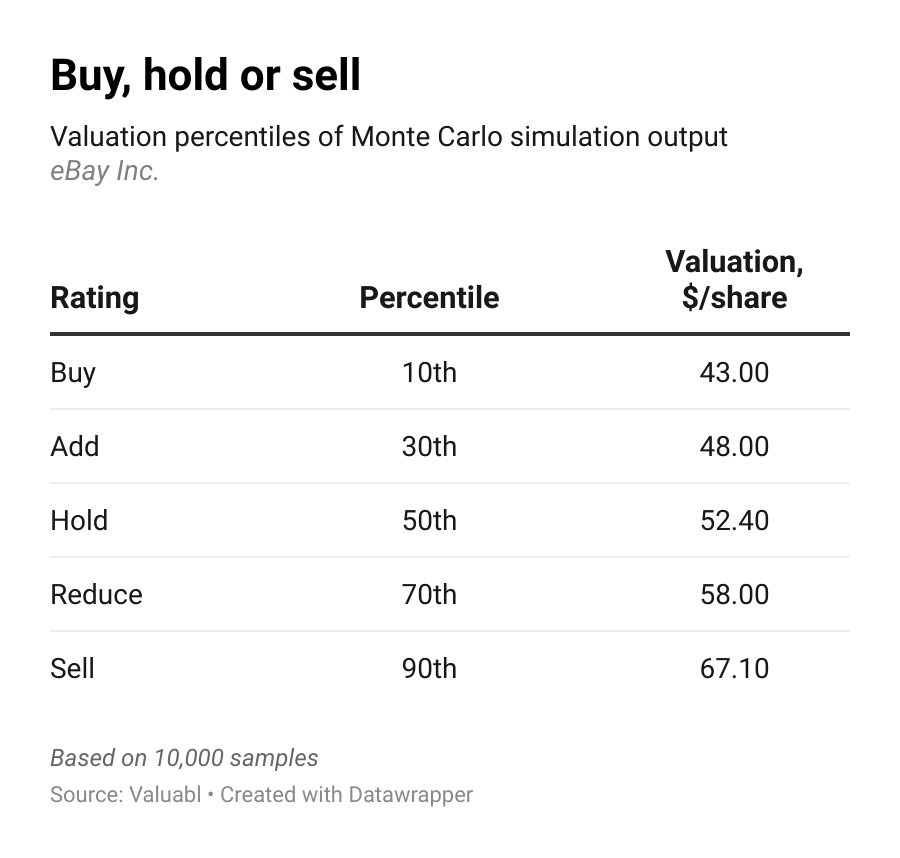 The price of eBay Inc. common equity is $38.00 and is at the 1st percentile of intrinsic values from the Monte Carlo simulation. For this reason, it has a rating of Buy.
eBay's shares are undervalued and uncorrelated with my portfolio. I am building a position.